I started my walk on Camino de Santiago – the way of saint James –  a few days after the plan. In part, the delay was due to the bicycle theft in France. But it also took a little longer than planned to cycle through France and over the Central Massif.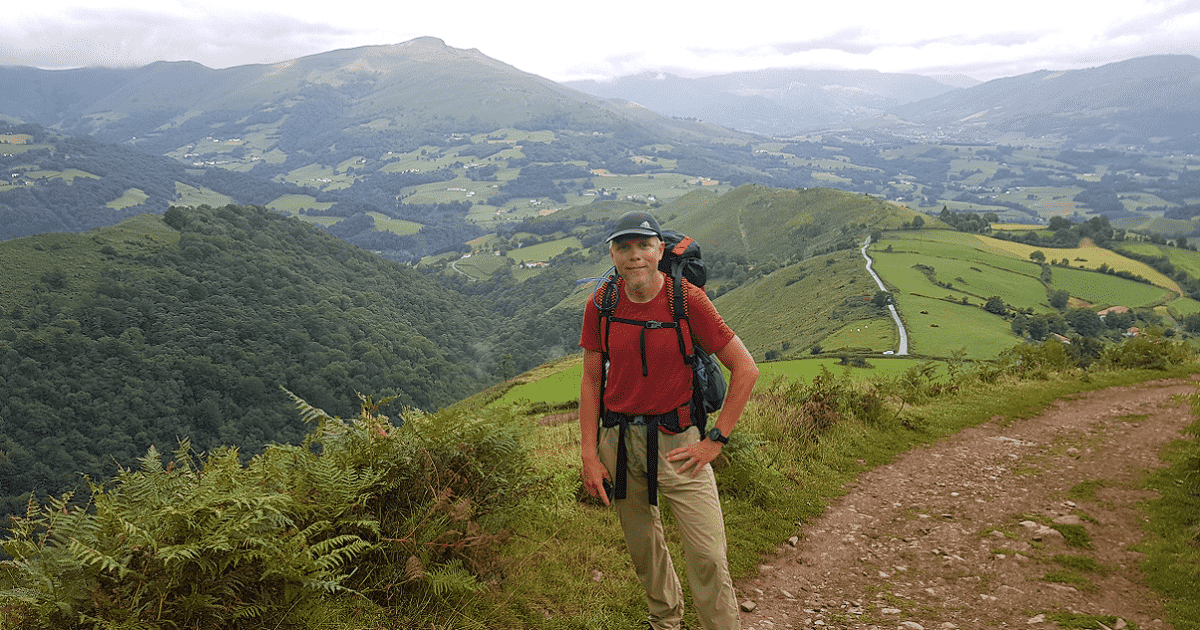 The morning of August 12th I started to hike. The first stretch from Saint-Jean-Pied-de-Port to Roncesvalles is mostly up, up, up. It is a long uphill with a rise of 1200 height meters. After a few kilometers of hiking you do not pass many houses. Sometimes it is a breathtaking landscape that spreads out below you.
Learning song texts
Just as I started to walk, I thought about what I would do all the hours I planned to go each day. I had just listened the second time to the book Peak by Anders Ericson. The book is about us humans and our ability to master almost anything we do. There seems to be no further limit on how much we can learn. I have always admired people who can sing and quote lyrics by heart. So I decided to devote some of my time during my hike to learning song lyrics and quotes that I like. One of the first lyrics I learned was See me beautiful by Marshall Rosenberg.
When I got to the top after five hours of hiking, my legs were really tired. I consider myself to be quite well-trained and I am full of wonder at everyone who can pass the top: young, old and overweight people. It is a tough introduction and worth all the respect for those who take on the challenge.
After the long uphill it is time for a long and often steeper downhill with a lot of stones and roots. This part is actually harder than going up and my legs had to work hard. It also took longer than I remembered from last time. I got company of some horses standing in the steep downhill slopes.
When I arrived at Roncesvalles, I enjoyed a three-course pilgrim menu before it was time for me to move on. The pilgrim menu is served almost everywhere along the Camino. It costs around 10 Euro and consists of appetizer, main course, dessert and a glass of wine or beer. Sometimes you get a whole bottle of wine.
The first night
The first villages along the pilgrimage path have quite expensive albergues. As I approached the last village before a fairly long distance to Zubiri, I asked about house accommodation on an albergue. It was full (and anyway too expensive for my taste; over 20 Euro). Now I was glad that I had packed my tent. During the bike ride, I camped in my three-persons tent. In it I could roll in the bicycle trailer and still have free space next to it. Now under the pilgrimage path, I brought my light single tent. I could barely fit in it with my backpack next to me and when I sat I hit my head on the canvas.
When I woke up in the tent after my first morning on the pilgrimage, my backpack was wet. The camelback I bought at the outdoor equipment shop in Saint-Jean-Pied-de-Port leaked. Later in the evening of the same day, I arrived in Pamplona and bought a new camelback that worked all the way.
Will I make it?
At the end of the second day I approached Mont Perdon and managed to get the last bed in an albergue. I was really tired and when I went down the stairs to the toilet my legs felt like after a marathon. I fell asleep, a little worried about how the rest of the hike would be.
The following morning my concern increased. The outside of both limbs ached and I was really tired in my legs. Anyway, I made my way up to Mont Perdon and met the classic statues and the fantastic view of the Pyerenees. As I walked on, the pain disappeared and my body seemed to adapt to the effort.
Good vibrations
A few days into the hike I met Mathieu, a young man from Bordeaux. He knew poor English and I only knew a few words of French. We talked to each other anyway. We spent a few hours in each other's company and shared our thoughts on why we went on the pilgrimage. His reason was that his brother had cancer, and he went to send good vibrations to him. When we got to the nearest town, we drank a beer at a pub before parting.
On August 20, I reached the longest distance between two places on the entire pilgrim route: 17 kilometers without stopping. If you are lucky there is a serving that is open after half the route. I was too late, so it was closed when I walked past. I eventually arrived at Calzadilla De La Cueza and got a place at a shelter for five Euro. Before I went to bed I went to a nearby restaurant where I got a pilgrims menu and a whole bottle of wine for 11 Euro. I fell easily asleep and the next morning I started my hike in the dark, the earliest time of my entire trip.
Fed by a woman
In the afternoon the same day I left Sahagún and started a hike in the sun. It was a dry, open landscape with no possibility of shade. After an hour I saw a woman sitting by the shade of a tree and as I approached she waved to me. She asked if I wanted food and I sat down happily in shelter from the sun. She gave me food and crumbs of bread for the ants on the ground. Fascinated, we saw how the ants carried bread crumbs far larger than themselves. I thought that the ants work together to provide food and so do we humans.
After a long rest we left. She told me her name was Anna Maria and that she was from Romania. We talked about all our motives to walk the Camino. She shared her joy of contributing to others, both with food and with a cheerful mood. When we arrived at the next village, she stopped for the night.
Sunset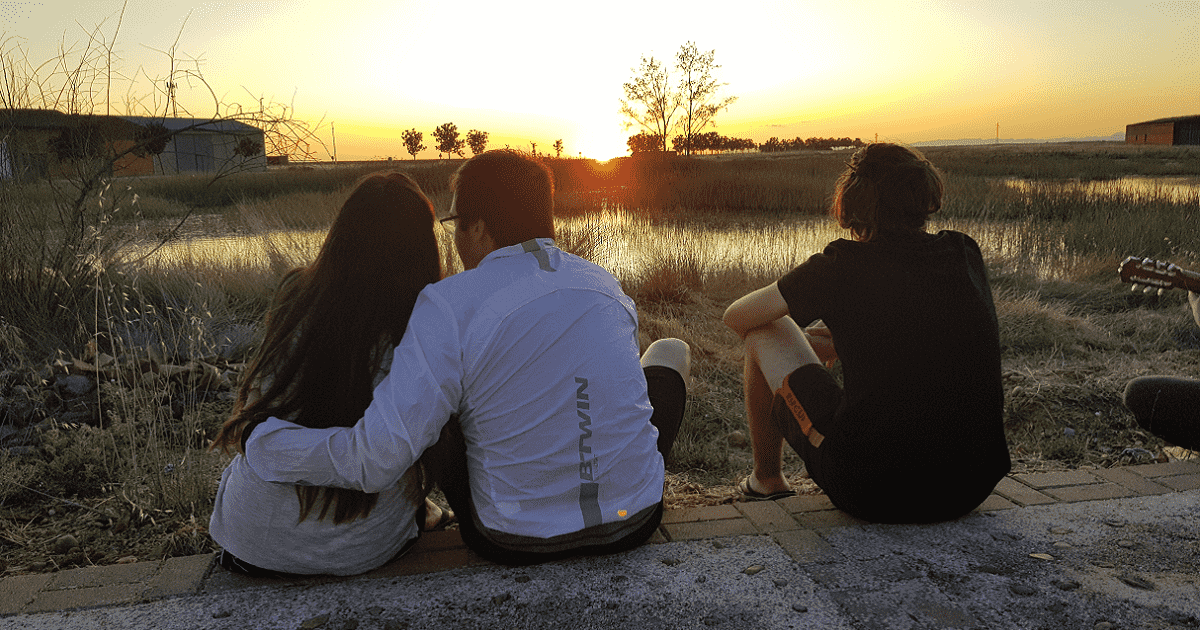 It was a long way to the next village and I decided to join the other route (sometimes it is possible to choose alternative routes). I walked across the fields in no-mans-land until I came to the next small town, El Burgo Ranero. Again, I managed to get the last bed in a donativo, an albergue run with volunteer gifts. A short while after I arrived, I followed the staff and some of the pilgrims to watch the sunset. The frogs quivered and the sun slowly sinked into the horizon on the other side of the lake.
A few days later, the hike started to go uphill a fairly long distance. I went into a shop and tried to find something to eat. Then suddenly I heard someone say my name, followed by the question "Do you want an ice cream?". It was József, a Hungarian who lived in London. He had seen my sign about the NVCtrip which I carried on my backpack. Because he had participated in an NVC workshop, he got curious and looked up my name on the internet. I happily accepted his gift and we joined each other on the way up. In the next village I drank the nicest cup of coffee I had on the whole Camino.
Leaving my sins behind
Soon we closed in on the Iron Cross. According to tradition, one should carry a stone along the Camino which symbolizes one's sins. You leave the stone and your sins at the foot of the cross. At first I thought "I don't have any sins". Everything I've done in life has shaped who I am. It's not something I can't – or even  want to – have undone. Instead, I thought I would put my core belief (that my needs are a burden to others) at the foot. But as I approached, I began to think about it. I thought of things I have done that I would not do again based on the consciousness I have today. I decided I don't need to rebel against old traditions. So I took my stone and put it down with all of my past sins at the foot of the Iron Cross.