After leaving my sins at the foot of the Iron Cross August 24 (see past blog post), I and József continued to walk. He went at least as far as I did, so we fitted together pretty well. However, we went at a slightly different pace. He often started faster than me and slowed down the pace during the day. I kept a more steady pace. We were passing each other's tracks for several days spending company now and then.
We parted for several hours  and met again over a cup of coffee before our roads parted for good. Later, as I approached Santiago-de-Compostela, I received a message that he was already on the bus on his way to the airport.
Before we parted, we came to a mountain village where we took a break at La Rosa del Agua. This shelter is run by Mike, an American with Spanish roots. We had a long conversation that was interrupted from time to time by guests who came and went. English was mixed with Spanish. It was nice to catch up and talk to someone who both listened attentively and shared his own thoughts about everything from the joy of serving pilgrims to American Politics.
Luxury on the Caminon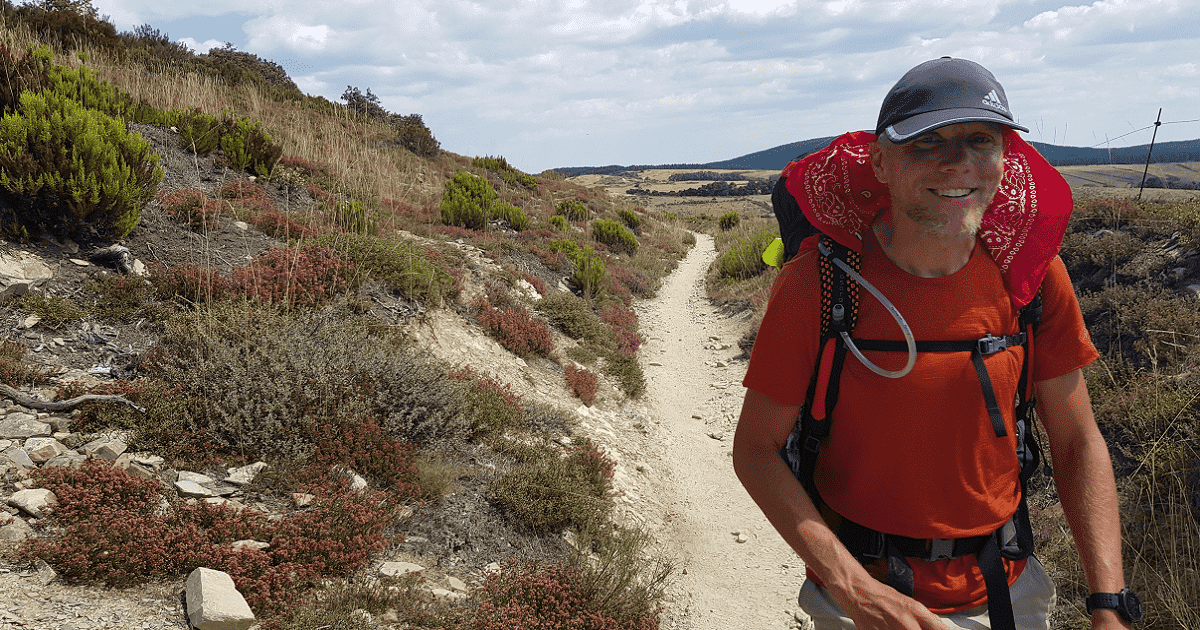 After parting from József for good the Caminon divided. I took the right path. I walked alone and did not pass many houses or people. At one point I passed a donativo that looked very nice, but I wanted to go further and continued without stopping. Soon it became dusk and the only shelter that was nearby cost 12 Euro. My unofficial limit was 10 Euro per night, but it was late and I was tired and decided to take it anyway.
First I came to a deserted bar and met a barking dog. After a while, a man came and I followed him to the albergue. It turned out that I got a whole floor for myself. A luxurious bed and a private bathroom. It was like a better hotel. I slept well all night and was awakened in the morning by mooing cows. It was a nice break from the more spartan life on the road.
Next day I arrived in the city of Sarria. It was very obvious that this is the most popular place to start the Caminon. If you want to have a certificate of the Camino, this is the shortest distance you have to walk to reach Santiago de Compostela. There were lots of shops with pilgrim souvenirs and everywhere I saw people with backpacks and the pilgrim shell.
At this moment I noticed something resembling contempt, even though it is a harsh word. Something like "Well, here you go. I've just walked 700 kilometers! " Hand in hand with judgments about others come judgments about myself. Well, here I walk, filled with self-centered thoughts looking down on others.
Celebration instead of self-righteousness
I remember many years ago asking Liv Larsson how to handle thoughts of superiority. She answered in a way I really liked. There is an alternative to thinking that I'm better or thinking that I'm a lousy person for having such thoughts. You can choose to look beyond your thoughts and enjoy the needs behind them. Her suggestion was to celebrate.
I have done and achieved things in my life that I am proud of. I have spent time and energy on something and developed skills. In this case, I have made an effort and prepared myself for several years. First I did a bike tour throughout Europe and then I walked almost the entire pilgrimage route. And I haven't even come halfway. When I see others walking a shorter distance than I do, I gain perspective on my own trip. And it's actually something to celebrate!
I have been dreaming about this trip for a number of years and I have worked to achieve it. Fantastic! So instead of looking down on other people – I actually don't know how many obstacles they have had to overcome to be where they are – I can celebrate my own successes and my ability to put my dreams into action. A much nicer place for me to be in.
Receiving my credentials
The last evening before I arrived at Santiago de Compostela I came to a small villa in Castañeda owned by Shaun, a British guy. He ran the place as a donativo and called it Freebird. On a table at the entrance to the garden stood a carafe of lemonade and a few glasses. A hammock was hung in the garden and a guitar amplifier stood a few meters away. I stopped and talked to him for a while. Unfortunately, it was a little too early for me to stay for the night. I promised to come back in the evening after a two days trip to and from Santiago de Compostela. I went on and again managed to get the last bed in a shelter outside Rivadiso.
After spending the night in Rivadiso it was time for the last day on the Camino before I arrived at Santiago de Compostela. On the road there were almost ridiculously many pilgrims. It was as if we were walking in a demonstration. As far as I could see in front and in back there were heards of pilgrims. As usual, I walked quite a long way and eventually the numbers of pilgrims thinned out. I arrived at the square in front of the Cathedral of Santiago de Compostela early in the evening of August 29. I asked a young couple to take a photo of me. When the woman saw my sign she offered to share dinner with them. Finally, we joined eight people from Sweden, Canada, France, Italy, Taiwan, Belgium and Germany for paella. A nice picture of how internationally the pilgrims are.
I thanked for the dinner and started chasing shelter for the night. It was full in several places and finally I found a shelter where I could take a shower and sleep out for the night. In the morning I went to the pilgrims office and received my certificate. No time to rest, and off on the Camino again after completing half of my distance.