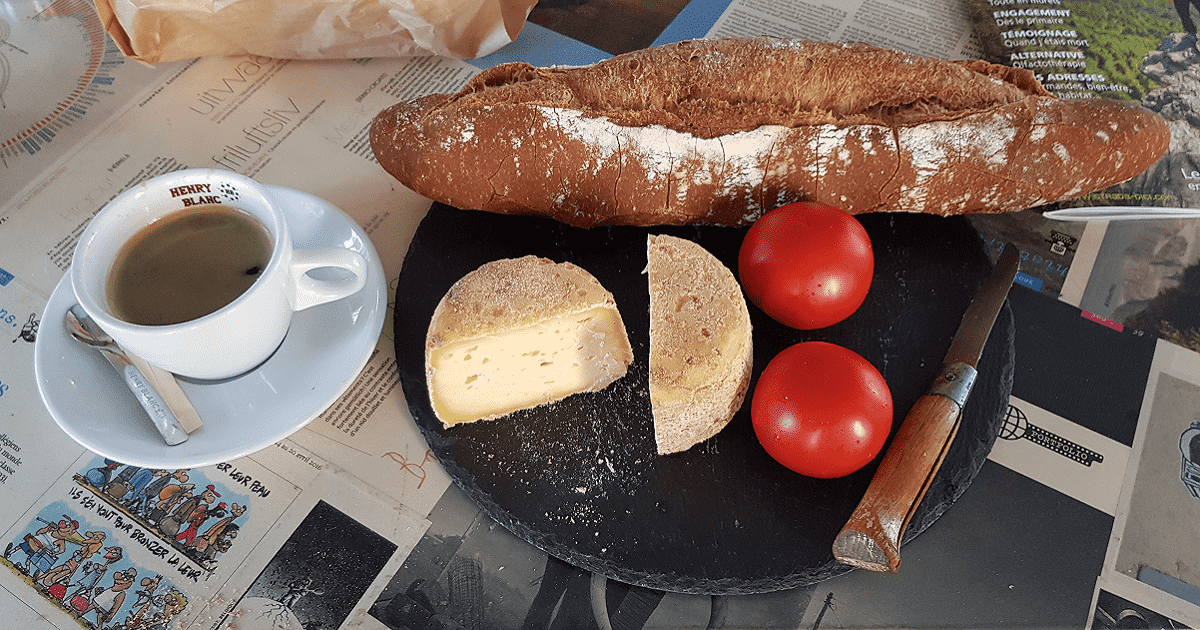 With my new bike, it was now time to take on the Central Massif. One of the cosiest places I encountered during my trip was a bar in Saint-Étienne-Lardeyrol. Behind the bar there was a store and it was self-service. I bought organic bread, tomato and with the recommendation of one of the bar visitors I chose the local cheese. I ordered a cup of coffee and prepared my own sandwich. From the loudspeakers streamed old ska from Jamaica. I spent a couple of hours at the bar and avoided the sun until they closed for siesta.
Reaching the top
In my mind I had imagined rocky mountain roads, but it was mostly hilly agricultural and forest landscape on my way up. My fears about a very difficult part of my trip didn't come true. On August 5th, I reached the top of the Central Massif. I stopped when I thought I had reached the summit and did not discover until afterwards that a white line crossed the road marking the summit.
After the top of the Central Massif, it was, as expected, pretty much downhill. I now approached Maria and her husband who live in Pampelonne, a small town with old stone houses. The last few kilometers before I got there were very special. At first it was a long steep downhill followed by a very long uphill road. When I got up, I discovered that I felt disappointed. In my mind I wished the townspeople would stand and cheer and throw rose petals to the cyclists who managed to bike all the way up, but I didn't see a human being.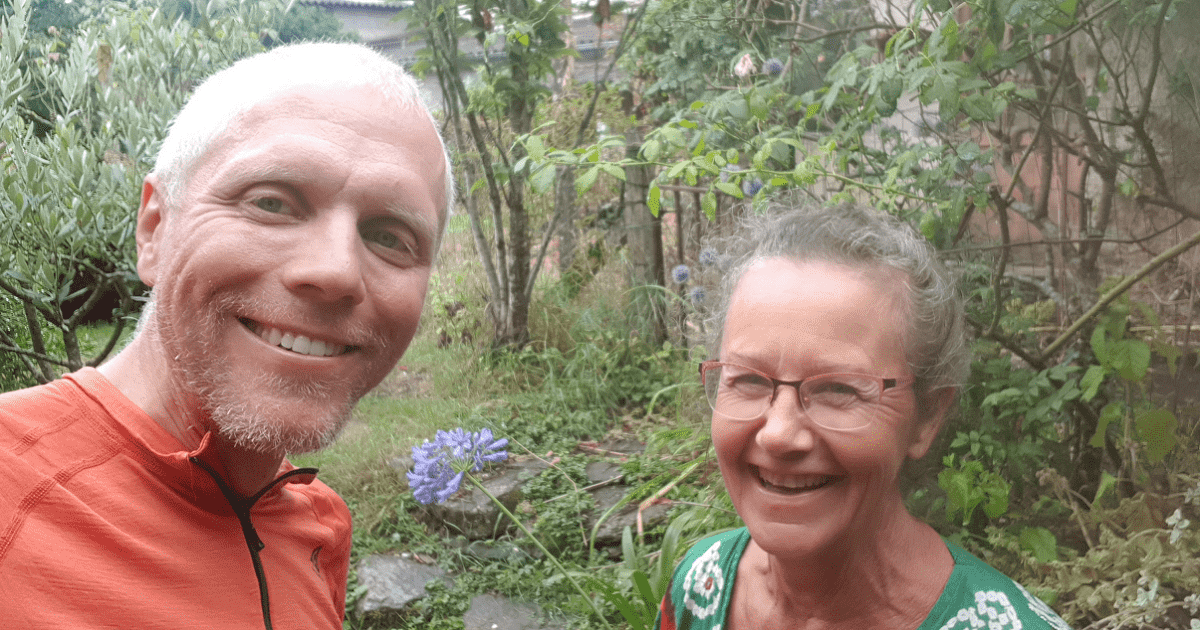 When I arrived at Maria, however, I was well served. I got a bed and after a shower I was served a delicious lasagna and a bottle of cold beer. I crawled into a warm bed and was joined by a mosquito during the night. So I lay and sweated with the blanket over me to prevent being bitten.
Arriving in Toulouse
The next day I approached Toulouse and felt pretty bad. I sat at a bus stop and felt pitiful. The nausea was probably a mixture of the heat and that I ate a whole lemon with peel and everything. In Toulouse, Diane was waiting for me. We had not seen each other since joining EuroLife together and I just managed to meet her before she left for Spain the following morning. It was a lovely reunion and as usual I got plenty of food. It was really nice to have a shower and crawl into bed again. The next morning it took some hours before I managed to hit the road again.
A few days later I saw the Pyrenees in the distance. For a long time I was looking for a good place to put up the tent and it rained quite heavily. I found a meadow behind a hedge where I could tent undisturbed. It was raining so much that I went out naked and tried to shower in the rain. It didn't work out that well and I probably just smeared rainy sweat on my body.
Last day on the bike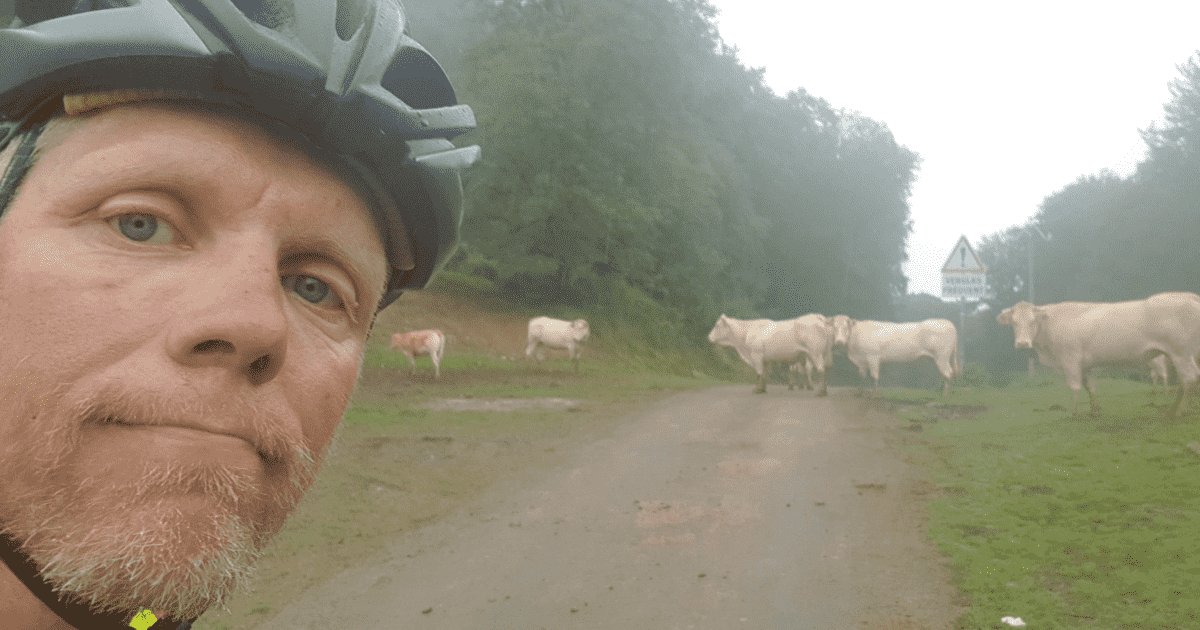 August 10 was the day I would arrive in Saint-Jean-Pied-de-Port. I had to choose on a long detour or to cycle over a mountain. I chose the mountain because I didn't trust Google maps that showed me the way around. This was going to be the most challenging part of my entire NVCtrip. For over 15 km I cycled 920 meters and sometimes the slope was 20 degrees.
I got up standing on the bike and pedaled for a few hours and the road was crossed by both cows and horses. At the top, the fog was so dense that I only saw about ten meters. It was also very humid and I shuddered as the moisture crept into all my clothes. Down the road the road was covered with gravel now and then so I had to use the brakes quite a bit. Still, it was nice to go down and being released of both the fog, the moisture and the cool temperature.
Arriving in Saint-Jean-Pied-de-Port
I approached Saint-Jean-Pied-de-Port late at night and was looking for somewhere to sleep. Finally, I found a spot behind some sheds in an industrial area.
It rained during the night and the next day I left the wet tent and cycled into town. I went to the pilgrimage office and got my pilgrim credentials. In the office I asked if they knew any place where I could store my bike and cart. They knew nothing, but in the pilgrim shop with outdoor equipment, they told me about the hostel just 10 meters down the street. The proprietor said I could keep everything I didn't want with me during my weeks out on the pilgrimage. I booked a bed for the night. I picked up the bike cart and the tent and hung everything to dry. After that I bought a new backpack and a camelback and the next morning I was ready to go out again, this time on foot.
Insight
The biggest insight during this part of my trip was my ability to be in the present moment. It was particularly evident during the bike ride over the last mountain. I could very well have moaned and complained to myself how hard it was. Instead I stepped on and was completely focused on what I was doing at the moment. I could even enjoy the view while I pedaled upwards inch by inch.